Who's who at Reflect. Change. Be.
People are central to our work
Given that your first contact with us is likely to be via our contact form, email or phone, we thought you'd like to get to know our team a bit better.  We've included information about our roles, backgrounds and experience, and hope that also having a picture to go with a name can help set your mind at ease.  If you still have any questions or concerns, please don't hesitate to get in touch. We're always happy to help.
Elizabeth Clarke
Psychotherapist & Clinical Supervisor
Elizabeth run's her own psychotherapy and supervision private practice, as well as working as a volunteer supervisor for The Bower House Counselling Service. Elizabeth provides short term work for Insurance companies such as Bupa and AXA and also for Employee Assistance Programmes.  In the past, Elizabeth has worked for the NHS in secondary schools with bereaved adolescents.
Elizabeth has experience of working with clients across a number of presenting issues for example abuse (physical, sexual, verbal), addiction, anger, anxiety (general & social), autism, behavioural issues, bereavement, depression, eating problems, low self-esteem, relationship issues, sexuality, work issues, self-harm, and stress to name but a few. I've also worked with clients who feel they need to change their circumstances, but don't know where to start.
Elizabeth has provided counselling over different time periods ranging from 5-8 weeks to a significant number of years depending on the personal change the client wants to affect and the level of prolonged trauma that they have experienced. I'm also comfortable working with different belief systems and with clients from different cultures and experiences.
​Elizabeth undertook 4 years of Post Graduate level training with the Sherwood Psychotherapy Training Institute (SPTI), which was both a clinical and academic qualification validated by Staffordshire University and accredited by the UKCP. This involved having a high level of clinical supervision and mandatory personal therapy to ensure she was equipped to deal with a wide range of presenting issues.
Masters of Science Degree (MSc) in Person-Centred & Experiential Psychotherapy (Merit) (SPTI)
Diploma of Clinical Supervision (SPTI)
ABC Level 2 Award in Counselling Concepts (SPTI)
Registered Member of British Association for Counselling & Psychotherapy (BACP).
Full Clinical Member of the UK Council for Psychotherapy (UKCP)
Graduate Member of the Sherwood Psychotherapy Training Institute
Individual Member of the British Association for the Person-Centred Approach (BAPCA).
Member of the Black, African and Asian Therapy Network (BAATN)
Insurance for professional and public liability.
Registered with the Information Commissioner's Office (ICO).
Holds an enhanced DBS certificate.
Advanced Certificate – Chartered Institute of Marketing (Level 7)

BA (Hons) European Business (Level 6)

DipHE in Dance & Arts Management (Level 5)

Preparing to Teach in the Lifelong Learning Sector (Level 3)
Outside of psychotherapy / counselling Elizabeth has held managerial positions in large blue-chip organisations, as well as being self-employed since 2009. Elizabeth understands the pressures caused by the dynamics in corporate environments, and from managing one's own business. Elizabeth is equally comfortable working with clients who are more cognitive / thinking in their processing of experience as well as those who make decisions based on feelings/gut instinct.
Karina Bailey
Personal Assistant & Administrator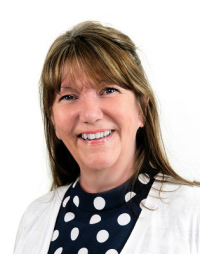 If you contact us, Karina is likely to be the first person to greet you,  We understand how scary it can be making contact with a therapist for the first time so Karina prides herself on making sure that you get a prompt reply on the same day during work hours, or on the next working day if you make contact out of hours.  We feel that it's important that you're not anxiously waiting for days to see if we have received your message. Karina is compassionate and discreet and clients and supervisees know that if they need to move or cancel a session, Karina can do that quickly and efficiently whilst Elizabeth is in session.
Karina has worked in business administration for over 30 years and has a wealth of experience both as an office manager and as PA.  Her meticulous organisation skills are invaluable to Elizabeth and ensure that the administration of the practice takes place during working hours so that Elizabeth can achieve better work-life balance.
Professional Memberships & Affiliations
When choosing a psychotherapist, it's important to check their credentials to ensure that you are in an ethical pair of hands. We've made it easy by providing links (where available in bold) to some of the professional bodies or organisations who have verified Elizabeth's credentials on your behalf.